Echo 14-Day
Day 01
For most students, the first day usually starts very early in the morning at the airport. When you finally arrive at either St. Thomas or Beef Island's airport, you'll be met by our staff and guided through customs. After the hustle and bustle of immigration, everyone heads to our home base at Hodges Creek Marina. That night is spent meeting your Captain and everyone else on the program. The first boat meeting will be over a delicious local meal to set the course for the rest of your adventures. That first night, you'll participate in several activities and games to meet and get to know the rest of the crew, as well as set expectations for the journey ahead.
Days 02-04
The day will start with intensive instruction about the parts of the boat and a safety briefing. You'll be anxious to get off the docks and out into the Sir Francis Drake Channel and down to Norman Island. Once underway, you'll learn sail raising and about the different points of sails.

After arriving at Norman Island, you can snorkel the caves from Robert Louis Stevenson's novel Treasure Island and explore the many coral reefs there. That night, you will get a real feel for what it takes to live onboard after dinner when you learn about the daily cleaning regimen. Most students find some time to gaze up at the endless night sky before heading into a well-earned night of rest.

The next few days will be spent honing your sailing skills in the protected waters of the BVI. Each day will bring a different sailing exercise and countless lessons on the safety and seamanship requirements of open-ocean sailing. You will also spend time in our performance keelboats working on optional ASA certifications.

Day 05
By the end of the first week, you will feel like your 50-ft sloop is your new home. Everyone will learn how to give and receive constructive feedback by debriefing the day during boat meetings each night. You will all become more of a crew as you're forced to overcome difficulties and challenges – like recovering a practice man overboard or reefing the sails while underway.

Before making the passage down-island, there will be a stop in the North Sound to reprovision and allow for a well-needed beach day at the world-famous Bitter End Yacht Club. Everyone will gather that evening for a jovial dinner ashore, similar to the first night but now as a worthy crew instead of wary strangers.


Days 06-10
Following a long night's passage, bathed in the breathtaking hues of a spectacular sunrise, students will find themselves finally arriving in Sint Maarten. This marks a well-deserved respite from the challenges of being at sea for an extended period. As students disembark from the boats, there's a palpable sense of relief and excitement in the air, the promise of adventure beckoning them ashore. With the boats securely anchored, the students will embark on a journey to explore the island's captivating history, immersing themselves in its vibrant culture and heritage.

The following day, the seafaring adventure continues as the boats set course for St. Eustatius. This leg of the journey promises even more historical wonders as the students embark on a hike to the renowned Fort de Windt. Nestled amidst lush landscapes and steeped in centuries of stories, this fortress stands as a testament to the island's rich and storied past. As they ascend its walls, a sense of awe and reverence will wash over the students, connecting them to the history that has shaped these islands. This expedition isn't just about sailing; it's about discovering the cultural treasures and natural beauty that the Caribbean has to offer, leaving a lasting impression on the hearts and minds of those fortunate enough to partake in this unforgettable journey.
Days 11-14
The last few days of the program are spent exploring the Dutch island of Saba with its mystical cloud mountains and rainforest and hiking up the old volcano. The evenings will be full of stories and jokes between the crew trying to take advantage of their last few days together.

The downwind passage back to the BVI is much more relaxed as students exercise their newfound skills in open-ocean sailing. After arriving back in the BVI, there is a well-deserved day at Scrub Island catching up on sleep and enjoying the waterslide.

The following day, the boats set course back to base at Hodges Creek, where they will share one last memorable meal as a group before embarking on their separate journeys home the next day. The evening carries a sense of serenity and contemplation as friends prepare to bid farewell, knowing that they will soon part ways. While the program may conclude the following day, the adventures, bonds, and cherished memories will continue to thrive in the hearts and narratives of both former crew members and newfound friends.
Sail Caribbean
Activities
Kayaking
Ready for a little exploring with a friend? With all the beautiful anchorages and coves we visit there's much to explore by paddle power.
Snorkeling
Meet the creatures below the waves. Swim alongside a friendly sea turtle, join a school of Blue Tang fish, and explore the reefs!
Stand Up Paddleboarding
Get your footing and you'll be amazed at how easy it is to maneuver with perfect balance. You'll have terrific views above, as well as below the waves.
Tubing
Our Number 1 watersports toy is nicknamed "Papa". You'll be hanging on so tight you won't even be able to give a thumbs-up.
Wakeboarding
Once you're up it's a thrill every single second, especially if you get airborne. No wonder this is a Sail Caribbean one-handed favorite!
Waterskiing
Get up, get steady! Then you'll be zipping back and forth across the wake for a ride you'll remember.
Small Boat Sailing
You'll learn so much on your big yacht. Try applying your seamanship skills to smaller boats and feel how swiftly they respond.
Social Events
Dance with Moko-Jumbie stilt walkers at our Fireball Party, win the famous Chili Cookoff, and compete for glory at the SC Olympics.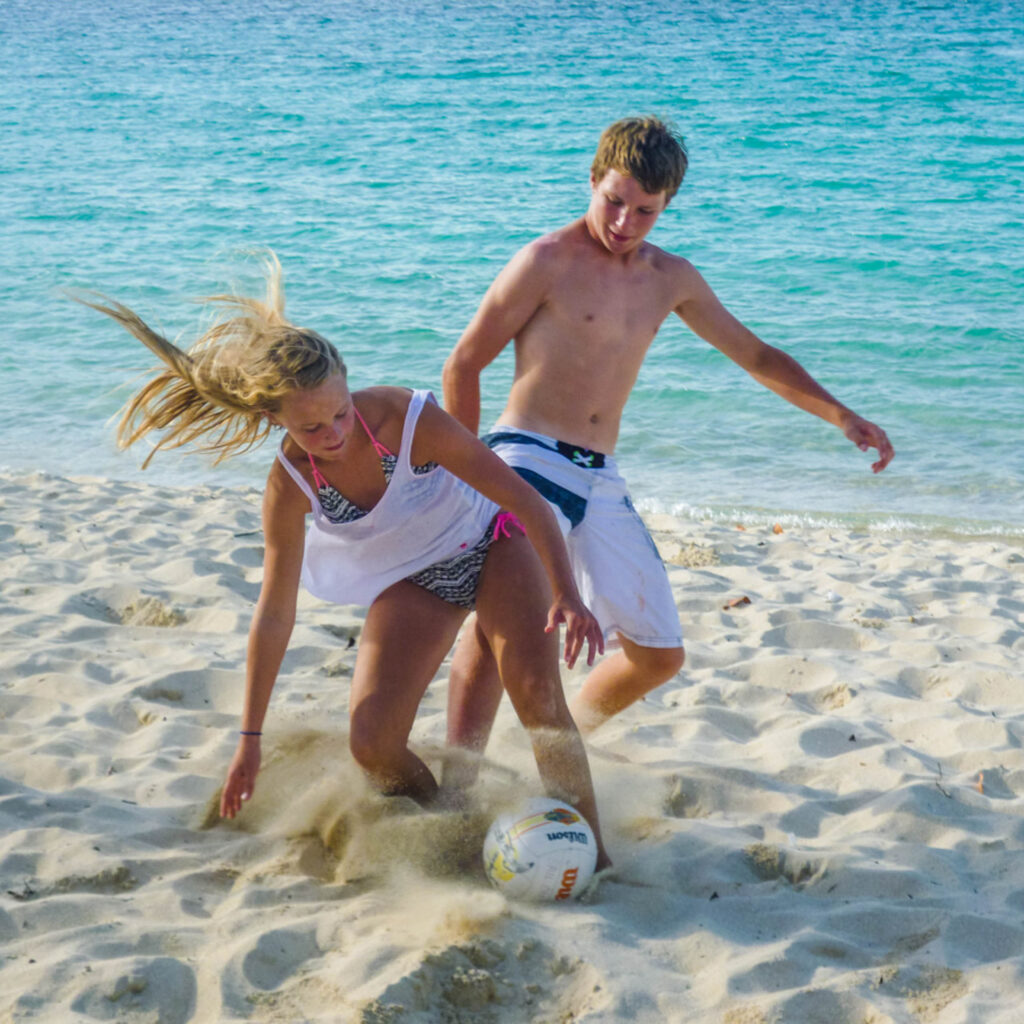 Beach Sports
Team up for a spirited game of volleyball or a fast-paced soccer tournament, then cool off rehearsing a synchronized swim.
Hiking
The islands we visit are mountainous. Reaching the best vantage points provides challenges, but the pay offs are breathtaking vistas!
Community Service
Whether your interest is in cultural heritage, marine biology, or environmental conservation, you'll have opportunities to roll up your sleeves and pitch in!
Island Exploration
Hike through a rainforest, travel mountainous hillside roads, learn about the art of glassblowing, visit an organic farm, and discover different cultures.
Scuba
If you choose scuba, it doesn't matter if you're a seasoned diver or if you're taking your very first scuba lesson. You're in for the ultimate dive experience.
Advanced Sailing
There are opportunities to build on your sailing and seamanship skills through American Sailing Association courses which include practice time on our 26′ Colgate training boat, Opal Bella.
On EVERY SAIL CARIBBEAN ADVENTURE
Sail Caribbean offers ten different adventure groups with 30 different sessions in the British Virgin and Leeward Islands of the Caribbean. You live aboard a modern 50′ monohull yacht or 45′ catamaran with other teens in your age group and learn to sail. No experience is necessary. Every adventure focuses on an activity, but each offers scuba, marine biology, community service, cultural exchange, watersports, friendships, personal growth and lifelong memories.
Want to compare adventures? Download our 2024 Schedule (PDF)!
Courses
Sailing
Prerequisites: None

If you're arriving at Sail Caribbean with prior sailing experience and are very keen on making the commitment to learn more, why not take this opportunity to gain a nationally recognized certification? You'll participate in seminars and practice your helmsmanship on our big boats, and then demonstrate your sailing and seamanship skills during two to three intensive days on our own Colgate 26', Opal Bella. The goal of this certification is for the participants to be able to single-hand (maneuver alone) these keelboats. Written and practical exams fulfill the requirements and you'll have an official certification that's valid for years to come and a stepping-stone to many other sailing certifications. View more details about ASA certifications here.
Prerequisites: Basic Keelboat Sailing (ASA101) certification

Demonstrated ability to skipper a sloop-rigged auxiliary powered (outboard or inboard engine) keelboat of approximately 25 to 35 feet length by day in moderate winds and sea conditions. Knowledge of cruising sailboat terminology, basic boat systems, auxiliary engine operation, docking procedures, intermediate sail trim, navigation rules, basic coastal navigation, anchoring, weather forecast interpretation, safety and seamanship. View more details about ASA certifications here.
Prerequisites: Basic Keelboat Sailing (ASA101) and Basic Coastal Cruising (ASA103) certifications
Demonstrated ability to skipper a sloop-rigged, auxiliary powered keelboat (or catamaran, if course is conducted on such) of approximately 30 to 45 feet in length during a multi-day cruise upon inland or coastal waters in moderate to heavy winds (up to 30 knots) and sea conditions. Course is conducted as a live-aboard cruise of at least 48 hours. Knowledge of provisioning, galley operations, boat systems, auxiliary engine operation, routine maintenance procedures, advanced sail trim, coastal navigation including basic chart plotting and GPS operation, multiple-anchor mooring, docking, health & safety, emergency operations, weather interpretation, and dinghy/tender operation. View more details about ASA certifications here.
Scuba
Discover a whole new world beneath the waves!
You will experience the thrill of scuba diving under the close supervision of a qualified PADI Instructor in ideal conditions. Under the palm trees on the beach, we'll begin with an orientation and skills session – you'll be introduced to the basic concepts of scuba diving. Next you'll learn about equipment, basic skills and safety procedures. Afterwards, you'll practice those important scuba skills in three to five feet of calm, clear water right off the beach. You'll continue with your first dive experience off that same beach in 20-30 feet of calm water. Once you're comfortable with the basic skills, one of our custom dive boats will take you to enjoy your first open water dive. It will be no deeper than 30ft, and you'll be able to explore one of our amazing reefs with your instructor.
The DSD course is available on all of our programs except Charlie. Students will spend 2-3 sessions with our PADI instructors. In the future, if you decide to become certified, these skills and the open water dives may be credited towards your PADI Open Water Diver course.
Prerequisite: Must be Open Water certified or equivalent
Non-certification recreational diving is available as an option on all of our adventures. Ever imagine diving on a coral garden, drifting through a rainbow canyon, or exploring a sunken wreck? You will enjoy recreational diving in the BVI with our own Sail Caribbean Divers Instructors and Divemasters. On Delta in the Leeward Islands, professional dive instructors from each island along with our dive staff take you to gorgeous dive sites. You'll gain expert knowledge from each local instructor and get the most out of every dive site you visit. You must provide proof of certification from a recognized agency like PADI, NAUI, YMCA, or NASDS.
Dates & Costs
| Session | Start Date | End Date | Cost* | Days |
| --- | --- | --- | --- | --- |
| Echo Winter | 01/02/2024 | 01/15/2024 | $5795 | 14 |
| Echo Summer | 05/29/2024 | 06/11/2024 | $5595 | 14 |
*The tuition above does not reflect optional insurance, optional courses, and transportation fees.