Echo MATE-IN-TRAINING
Day 01
As the Mate-in-Training program commences, participants seamlessly transition from the Echo program to one of the exciting staff training sessions in the Caribbean. The anticipation in the air is palpable as they embark on this new chapter of their journey. Upon their arrival, the first night is a blend of excitement and camaraderie as the MITs move onto their designated training boats, transforming these vessels into their temporary homes.

The evening is a special occasion, as it provides the perfect setting for MITs to get to know both the new and seasoned staff members who will be accompanying them throughout their training. This initial socialization on the docks serves as a pivotal bonding experience, fostering connections and friendships among the diverse group of individuals who share a passion for sailing and mentoring. The sense of community and shared purpose is palpable, setting the tone for a collaborative and enriching training experience in the enchanting tropical setting.
Days 02-06

The initial phase of staff training is focused on laying a solid foundation in sailing skills. MITs undergo comprehensive instruction, starting from the basics and progressing upwards. Their role during this period extends beyond personal learning, as Leadership Staff actively encourage them to share the knowledge they've acquired during the Echo phase with their fellow trainees. This collaborative approach not only reinforces their own understanding but also fosters a culture of peer-to-peer learning within the staff team.

In the evenings, training takes a more experiential turn as staff members delve into Sail Caribbean's proprietary True Course curriculum. This immersive experience involves participating in a variety of games and activities designed to strengthen the bonds among the trainees. These engaging activities not only enhance teamwork and communication but also align the staff with the camp's values and ethos, preparing them for their roles as mentors and leaders for the upcoming student programs. The combination of structured learning and interactive bonding activities during this phase paves the way for a well-rounded and confident team ready to embark on their mission of providing an enriching experience for the camp's participants.

Days 06-12
The second half of staff training is spent refining the staff's seamanship abilities as well as everyone becoming experts in Sail Caribbean policies. Some days, staff will undergo safety drills and realistic scenarios to test their abilities and knowledge. Staff will undergo training to develop their leadership and problem-resolution skills to prepare them for working with students. Ample feedback will be given by program leadership staff to everyone on how to improve and perfect their skills.
day 13
The culmination of the MITs' training journey arrives on their last day, marking their transition from students to integral members of the Sail Caribbean team. The morning is dedicated to forging connections with their designated Captain and Mate for the forthcoming program, a crucial step in ensuring the cohesion and effectiveness of their team. Together, they prepare their new boat, transforming it into a welcoming home for twelve eager students who will soon embark on their own maritime adventure.

In the afternoon, a final feedback session with Program Leadership takes place. This session offers an opportunity to reflect on the training experience and gather insights for continuous improvement. As the clock ticks, the anticipation builds, and soon, the students they've prepared for will begin to arrive, setting the stage for a new chapter in their roles as mentors, leaders, and stewards of the Sail Caribbean experience. This pivotal day represents the culmination of their journey as MITs and the beginning of their impactful contributions to the program's success.

Days 14-30
Over the next two weeks, MITs are set to embark on an immersive educational adventure. Working closely with their Captains and Mates, they'll take on the operational responsibilities of their student boat within the program. This hands-on experience includes attending staff meetings and feedback sessions which provide crucial insights into the inner workings of a successful program. Each day kicks off with an all-staff meeting, fostering teamwork and collaborative planning.

Most days, MITs will visit various boats, learning firsthand from experienced Captains. These on-the-job observations offer a deep dive into boat operation and management. Evenings bring them back to their home boat, where they engage in games and reflective discussions, cementing their newfound knowledge and building bonds with fellow crew members. These two weeks promise to be an unforgettable learning journey, equipping MIT students with practical skills and a profound appreciation for the intricacies of running a successful program on the open water.
Days 30-68
In the final half of their program, MIT students truly come into their own as valuable members of the staff. Building upon the immersive experiences of the previous weeks, they transition from being learners to leaders. These last few weeks mark a pivotal moment in their journey as they step up to take on responsibilities and contribute actively to the camp's operations.

As the MITs take their stride, they assume various roles, emulating the professionalism and expertise they've witnessed from their mentors. They become instrumental in facilitating the daily routines of the camp, imparting their knowledge to new arrivals, and helping coordinate activities. This transformation reflects their growth not only as sailors but also as mentors and role models for younger participants in the program. Their ability to blend technical proficiency with leadership skills becomes evident as they guide and motivate their peers.

Furthermore, the last few weeks serve as a testament to the camp's commitment to experiential learning and empowerment. MIT students demonstrate their adaptability, resourcefulness, and resilience in real-world situations, reinforcing Sail Caribbean's core values. By the end of this transformative period, they leave a lasting impact on the Sail Caribbean's culture, having evolved from eager learners into capable leaders, ready to share their passion for sailing and the British Virgin Islands experience with future generations of students.

Sail Caribbean
Activities
Kayaking
Ready for a little exploring with a friend? With all the beautiful anchorages and coves we visit there's much to explore by paddle power.
Snorkeling
Meet the creatures below the waves. Swim alongside a friendly sea turtle, join a school of Blue Tang fish, and explore the reefs!
Stand Up Paddleboarding
Get your footing and you'll be amazed at how easy it is to maneuver with perfect balance. You'll have terrific views above, as well as below the waves.
Tubing
Our Number 1 watersports toy is nicknamed "Papa". You'll be hanging on so tight you won't even be able to give a thumbs-up.
Wakeboarding
Once you're up it's a thrill every single second, especially if you get airborne. No wonder this is a Sail Caribbean one-handed favorite!
Waterskiing
Get up, get steady! Then you'll be zipping back and forth across the wake for a ride you'll remember.
Small Boat Sailing
You'll learn so much on your big yacht. Try applying your seamanship skills to smaller boats and feel how swiftly they respond.
Social Events
Dance with Moko-Jumbie stilt walkers at our Fireball Party, win the famous Chili Cookoff, and compete for glory at the SC Olympics.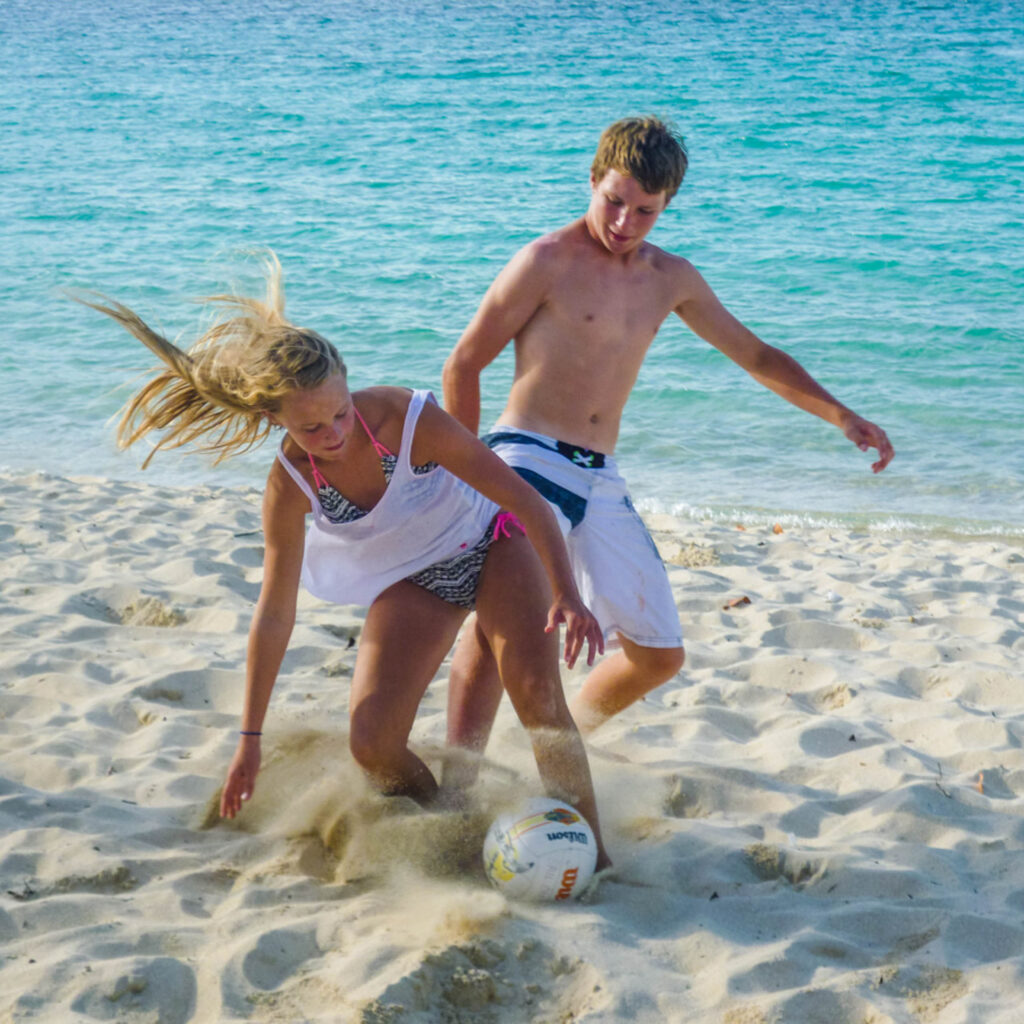 Beach Sports
Team up for a spirited game of volleyball or a fast-paced soccer tournament, then cool off rehearsing a synchronized swim.
Hiking
The islands we visit are mountainous. Reaching the best vantage points provides challenges, but the pay offs are breathtaking vistas!
Community Service
Whether your interest is in cultural heritage, marine biology, or environmental conservation, you'll have opportunities to roll up your sleeves and pitch in!
Marine Science Projects
Topics include: behaviors and ecological functions of reef fish, coral reef conservation, coastal restorations, turtle tagging, species diversity, and diurnal and nocturnal marine ecosystems.
Island Exploration
Hike through a rainforest, travel mountainous hillside roads, learn about the art of glassblowing, visit an organic farm, and discover different cultures.
Sailing
If you've never set foot aboard a 50′ sloop, it's OK with us – No Experience Necessary! You'll learn by doing and we'll be by your side all the way. If you're already a sailor, build on your knowledge!
Scuba
If you choose scuba, it doesn't matter if you're a seasoned diver or if you're taking your very first scuba lesson. You're in for the ultimate dive experience.
ON EVERY SAIL CARIBBEAN ADVENTURE
Sail Caribbean offers ten different adventure groups with 30 different sessions in the British Virgin and Leeward Islands of the Caribbean. You live aboard a modern 50′ monohull yacht or 45′ catamaran with other teens in your age group and learn to sail. No experience is necessary. Every adventure focuses on an activity, but each offers scuba, marine biology, community service, cultural exchange, watersports, friendships, personal growth and lifelong memories.
Want to compare adventures? Download our 2024 Schedule (PDF)!
Courses
Sailing
Prerequisites: None
If you're arriving at Sail Caribbean with prior sailing experience and are very keen on making the commitment to learn more, why not take this opportunity to gain a nationally recognized certification? You'll participate in seminars and practice your helmsmanship on our big boats, and then demonstrate your sailing and seamanship skills during two to three intensive days on our own Colgate 26', Opal Bella. The goal of this certification is for the participants to be able to single-hand (maneuver alone) these keelboats. Written and practical exams fulfill the requirements and you'll have an official certification that's valid for years to come and a stepping-stone to many other sailing certifications. View more details about ASA certifications here.
Prerequisites: Basic Keelboat Sailing (ASA101) certification
Demonstrated ability to skipper a sloop-rigged auxiliary powered (outboard or inboard engine) keelboat of approximately 25 to 35 feet length by day in moderate winds and sea conditions. Knowledge of cruising sailboat terminology, basic boat systems, auxiliary engine operation, docking procedures, intermediate sail trim, navigation rules, basic coastal navigation, anchoring, weather forecast interpretation, safety and seamanship. View more details about ASA certifications here.
Prerequisites: Basic Keelboat Sailing (ASA101) and Basic Coastal Cruising (ASA103) certifications
Demonstrated ability to skipper a sloop-rigged, auxiliary powered keelboat (or catamaran, if course is conducted on such) of approximately 30 to 45 feet in length during a multi-day cruise upon inland or coastal waters in moderate to heavy winds (up to 30 knots) and sea conditions. Course is conducted as a live-aboard cruise of at least 48 hours. Knowledge of provisioning, galley operations, boat systems, auxiliary engine operation, routine maintenance procedures, advanced sail trim, coastal navigation including basic chart plotting and GPS operation, multiple-anchor mooring, docking, health & safety, emergency operations, weather interpretation, and dinghy/tender operation. View more details about ASA certifications here.
Scuba
Discover a whole new world beneath the waves!
You will experience the thrill of scuba diving under the close supervision of a qualified PADI Instructor in ideal conditions. Under the palm trees on the beach, we'll begin with an orientation and skills session – you'll be introduced to the basic concepts of scuba diving. Next you'll learn about equipment, basic skills and safety procedures. Afterwards, you'll practice those important scuba skills in three to five feet of calm, clear water right off the beach. You'll continue with your first dive experience off that same beach in 20-30 feet of calm water. Once you're comfortable with the basic skills, one of our custom dive boats will take you to enjoy your first open water dive. It will be no deeper than 30ft, and you'll be able to explore one of our amazing reefs with your instructor.
The DSD course is available on all of our programs except Charlie. Students will spend 2-3 sessions with our PADI instructors. In the future, if you decide to become certified, these skills and the open water dives may be credited towards your PADI Open Water Diver course.
Prerequisite: Must be Open Water certified or equivalent
Non-certification recreational diving is available as an option on all of our adventures. Ever imagine diving on a coral garden, drifting through a rainbow canyon, or exploring a sunken wreck? You will enjoy recreational diving in the BVI with our own Sail Caribbean Divers Instructors and Divemasters. On Delta in the Leeward Islands, professional dive instructors from each island along with our dive staff take you to gorgeous dive sites. You'll gain expert knowledge from each local instructor and get the most out of every dive site you visit. You must provide proof of certification from a recognized agency like PADI, NAUI, YMCA, or NASDS.
Dates & Costs
| Session | Start Date | End Date | Cost* | Days |
| --- | --- | --- | --- | --- |
| Echo Mate-In-Training | 05/29/2024 | 08/04/2024 | $5595 | 68 |
*The tuition above does not reflect optional insurance, optional courses, and transportation fees.