Sierra 14-Day
Day 01
Get acquainted with our beautiful home base at Hodges Creek Marina. Meet your Captain, Mates, and everyone on your program. Start to unpack and get to know the rest of your crew. Have your first boat meeting over delicious chicken, rice, and slaw to set the course for the rest of your adventures to come.
Days 02-04
Before you embark on your first sail as a crew, your Captain will walk you through the boat and give a safety briefing. As a crew, you'll put together your first breakfast buffet and learn where all the dishes belong in the galley. After a lesson on de-docking, the Skipper of the day will assign positions and get on the helm to lead you and your crew out into the Sir Francis Drake Channel. As soon as the sea breeze hits your face for the first time, you'll be hooked! At Cooper Island, you will go on your first group snorkel and learn the basics of reef fish identification! After your snorkel, you'll float with your crew mates on your boat's lilypad while debriefing your first adventures.
Days 05-07
In the morning, the divers head off for their last day of certification skills and dives at Norman Island. The rest of the fleet dinghies over to The Caves for a snorkeling adventure after a coral lesson. You'll carry waterproof identification guides so you can begin familiarizing yourself with the local marine life. Perhaps you will see your first sea turtle while diving or snorkeling in this area!
Days 08-10
You and your crew will face your biggest test yet as you approach Challenge Day. As a crew, you will take control of the boat and sail to our next destination. Your Captain and Mates are only along for the ride, so you'll have to rely on each other and make decisions as a team. Your Captain and Mates will wait for you to wake them up and start the day off strong. You'll be well-rewarded for your efforts when you go ashore at Bitter End Yacht Club. Here you will have the opportunity to sail Hobie cats and test out the wakeboards!
Days 11-13
Get up close and personal with squid anatomy when you do a squid dissection. Learn about reef ecosystems and conduct a water quality test. Each day is a new opportunity to better yourselves and you're up for it! The challenge for today is anchoring at Savannah Bay on Virgin Gorda. You will help the Skipper of the day by spotting a nice sandy patch to drop your hook for the night. Soak in every second with your crew and set goals for the final days of the program.
Day 14
After a night of celebrating your accomplishments and sharing your final presentations, you'll exchange fond farewells and airplane letters before parting ways until next summer!
Sail Caribbean
Activities
Kayaking
Ready for a little exploring with a friend? With all the beautiful anchorages and coves we visit there's much to explore by paddle power.
Snorkeling
Meet the creatures below the waves. Swim alongside a friendly sea turtle, join a school of Blue Tang fish, and explore the reefs!
Stand Up Paddleboarding
Get your footing and you'll be amazed at how easy it is to maneuver with perfect balance. You'll have terrific views above, as well as below the waves.
Tubing
Our Number 1 watersports toy is nicknamed "Papa". You'll be hanging on so tight you won't even be able to give a thumbs-up.
Wakeboarding
Once you're up it's a thrill every single second, especially if you get airborne. No wonder this is a Sail Caribbean one-handed favorite!
Waterskiing
Get up, get steady! Then you'll be zipping back and forth across the wake for a ride you'll remember.
Social Events
Dance with Moko-Jumbie stilt walkers at our Fireball Party, win the famous Chili Cookoff, and compete for glory at the SC Olympics.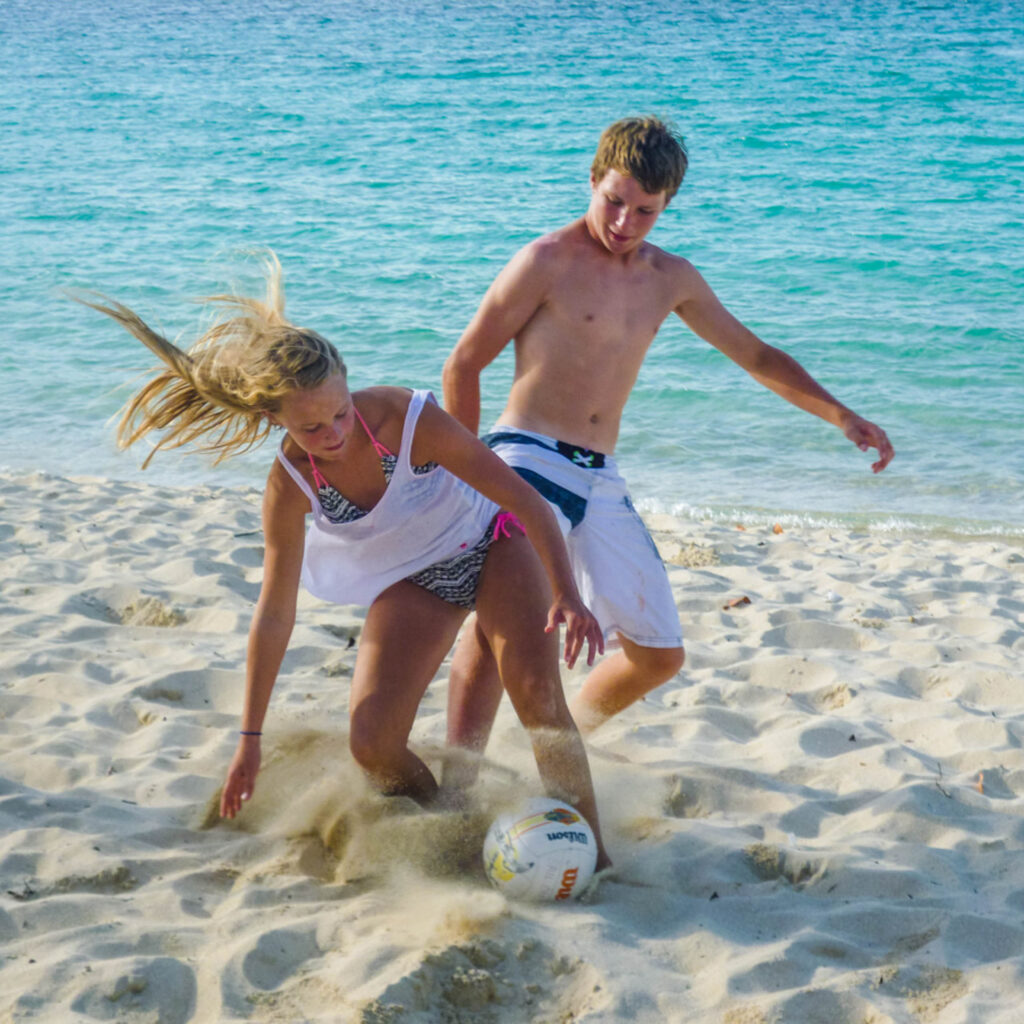 Beach Sports
Team up for a spirited game of volleyball or a fast-paced soccer tournament, then cool off rehearsing a synchronized swim.
Hiking
The islands we visit are mountainous. Reaching the best vantage points provides challenges, but the pay offs are breathtaking vistas!
Community Service
Whether your interest is in cultural heritage, marine biology, or environmental conservation, you'll have opportunities to roll up your sleeves and pitch in!
Marine Biology Seminars
Topics include: respect and awareness of marine organisms, coral biology, geologic formation, sharks, invasive species, sea turtles, and the night ocean.
Island Exploration
Hike through a rainforest, travel mountainous hillside roads, learn about the art of glassblowing, visit an organic farm, and discover different cultures.
Sailing
If you've never set foot aboard a 50′ sloop, it's OK with us – No Experience Necessary! You'll learn by doing and we'll be by your side all the way. If you're already a sailor, build on your knowledge!
Scuba
If you choose scuba, it doesn't matter if you're a seasoned diver or if you're taking your very first scuba lesson. You're in for the ultimate dive experience
ON EVERY SAIL CARIBBEAN ADVENTURE
Sail Caribbean offers ten different adventure groups with 30 different sessions in the British Virgin and Leeward Islands of the Caribbean. You live aboard a modern 50′ monohull yacht or 45′ catamaran with other teens in your age group and learn to sail. No experience is necessary. Every adventure focuses on an activity, but each offers scuba, marine biology, community service, cultural exchange, watersports, friendships, personal growth and lifelong memories.
Want to compare adventures? Download our 2024 Schedule (PDF)!
Courses
Sailing
Prerequisites: None
This certification is bestowed on any crew member who demonstrates the ability to fully participate in the daily sailing tasks on board and passes a written test proving that they've mastered fundamental information on safety, seamanship, navigation and boat handling skills.
Prerequisites: SC Crew
Proving you have an understanding of some of the more advanced sailing theories and demonstrating the ability to participate in sail reefing, timed tacking and jibing, island crossing, advanced navigation, anchoring, docking and de-docking skills along with racing tactics and proper safety techniques will earn you our Bosun certification.
Prerequisites: SC Crew & Bosun
A focus on leadership while underway is the core of this certification. You'll earn Mate certification if you succeed at assigning crew positions, directing most phases of seamanship and safety drills, demonstrate proper engine, dinghy and equipment use and maintenance, keep an accurate ship's log and monitor the weather all skills that make you a capable second in command.
Scuba
Discover a whole new world beneath the waves!
You will experience the thrill of scuba diving under the close supervision of a qualified PADI Instructor in ideal conditions. Under the palm trees on the beach, we'll begin with an orientation and skills session – you'll be introduced to the basic concepts of scuba diving. Next you'll learn about equipment, basic skills and safety procedures. Afterwards, you'll practice those important scuba skills in three to five feet of calm, clear water right off the beach. You'll continue with your first dive experience off that same beach in 20-30 feet of calm water. Once you're comfortable with the basic skills, one of our custom dive boats will take you to enjoy your first open water dive. It will be no deeper than 30ft, and you'll be able to explore one of our amazing reefs with your instructor.
The DSD course is available on all of our programs except Charlie. Students will spend 2-3 sessions with our PADI instructors. In the future, if you decide to become certified, these skills and the open water dives may be credited towards your PADI Open Water Diver course.
Prerequisite: Must be Open Water certified or equivalent
Non-certification recreational diving is available as an option on all of our adventures. Ever imagine diving on a coral garden, drifting through a rainbow canyon, or exploring a sunken wreck? You will enjoy recreational diving in the BVI with our own Sail Caribbean Divers Instructors and Divemasters. On Delta in the Leeward Islands, professional dive instructors from each island along with our dive staff take you to gorgeous dive sites. You'll gain expert knowledge from each local instructor and get the most out of every dive site you visit. You must provide proof of certification from a recognized agency like PADI, NAUI, YMCA, or NASDS.
Prerequisite: 12+ years of age.
This PADI course is the most popular entry-level dive program in the whole world! Throughout our PADI Open Water Diver course, you'll learn the fundamentals of safe scuba diving, including dive equipment, techniques, and planning. This certification allows you to rent scuba equipment, obtain tank air fills and also enroll in PADI Continuing Education courses (PADI Adventure Diver, PADI Advanced Open Water Diver, or even PADI Specialties).
The PADI Open Water Diver certification is recognized worldwide. To earn this rating, we'll introduce you to eLearning:
eLearning is an online Open Water course developed by PADI.
Non-diving "classroom" lessons are completed at home before your summer program starts.
The online course, averaging 6-8 hours to complete, presents the material in an "easy to use" manner and assures that you thoroughly understand the information. You can divide the course into several separate learning sessions to fit your schedule. No pressure — you set your own pace.
You can get one-on-one assistance from our professional scuba instructors in the Caribbean — the same instructors that you'll have during the summer! They are on call by email to answer questions you may have along the way. This is personal attention that might not be available in a larger classroom setting.
Parents can oversee the sessions and possibly offer assistance.
The greatest advantage is that when you arrive in the Caribbean your time is spent underwater developing the skills required to become a qualified, capable, and safe diver. You're not in the classroom! The first thing that you do is take a review test to prove that you're ready to go diving!
During five confined water training dives, your instructor will demonstrate, and then you'll practice and master, important diving skills. Finally, applying everything you have learned, you will make four open water dives at favorite dive sites around the British Virgin Islands.
For Open Water divers who want to earn the next certification.
Divers who are already certified can go to the next level and improve their skills. You will receive your PADI textbook upon arrival in the islands. During the course you will complete interesting and informative knowledge reviews along with navigation, night and deep dives, plus two other dives of your choice in assorted specialty areas for a total of five dives. After the course, you can use your skills to enjoy recreational dives during the remainder of your adventure.
Dates & Costs
| Session | Start Date | End Date | Cost* | Days |
| --- | --- | --- | --- | --- |
| Early Sierra | 06/08/2024 | 06/21/2024 | $6095 | 14 |
| Sierra 3 | 08/05/2024 | 08/18/2024 | $6095 | 14 |
*The tuition above does not reflect optional insurance, optional courses, and transportation fees.