Charlie Pro 35-Day
Day 01
On the first day, students will arrive at the program's home base, full of anticipation and excitement. Here, they will have the opportunity to meet the staff and fellow participants, forming connections that will define their journey. The orientation session on this day sets the stage, not only introducing them to the program but also nurturing their sense of responsibility for their own adventure as they work towards earning their PADI Divemaster certification.
Days 02-05
During the initial days, students will dive into hands-on preparations for their PADI Divemaster certification. Here, they will diligently practice essential diving skills, refine their navigation abilities, and acquaint themselves with the operational standards of our dive team. This immersive process empowers them with a heightened sense of independence as they build the confidence to navigate the underwater world ahead.
Days 06-09
As the journey continues, students will assume the role of divers with increasing responsibility. They'll explore the mesmerizing underwater world by diving the Wreck of the Rhone during both day and night. Moreover, they will shadow our dive staff while they teach from our dive boats, gaining invaluable insights and hands-on experience. This immersive learning opportunity not only enhances their diving skills but also instills a sense of responsibility and autonomy as they actively contribute to the dive team's operations. These experiences are essential for their quest to earn the prestigious PADI Divemaster certification, empowering them to confidently navigate the underwater realm and lead fellow divers with competence and assurance.
Days 10-13
During this phase, students will take on leadership roles and immerse themselves in diving activities while simultaneously gaining valuable insights into the inner workings of a dive shop. They'll not only continue to develop their diving skills but also actively participate in the management of a dive shop on land. This unique blend of hands-on experience includes learning about equipment maintenance, inventory control, and customer service in a dive shop setting. These experiences challenge them to effectively balance diving operations and dive shop management, exercise sound judgment, and cultivate their leadership skills.
Days 14-17
During this phase, students will explore different teaching styles and techniques, gaining a comprehensive understanding of instructional methods. They will have the chance to teach adolescents, which presents its unique challenges and rewards. Teaching adolescents requires patience, adaptability, and the ability to create an engaging and supportive learning environment that caters to their specific needs.

These diverse teaching opportunities enriches their knowledge and skill set, allowing them to adapt and excel in various instructional scenarios. The experience of guiding younger divers in their diving education not only contributes to their journey towards becoming PADI Divemasters, but also prepares them for versatile roles within the diving community.

Days 18-20
During this phase, students will actively mentor divers, working closely with them on a one-on-one basis. This mentorship involves providing personalized guidance and support, as well as seeking feedback to facilitate improvement. These interactions are a crucial part of their journey towards becoming dive professionals, as they learn to tailor their instruction to individual needs and preferences.
Day 21
A well-deserved day off allows students to reflect on and appreciate how far they've come on their journeys towards becoming PADI Divemasters.
Days 22-37
Transitioning to the final phase, students step into the role of Divemaster Interns. During this extended period, they function as full members of the dive team, actively participating in dive operations and assisting with instruction. They enhance their diving skills, gain valuable hands-on experience, and work diligently towards achieving their PADI Divemaster certification. This phase marks a significant milestone in their journey, as they continue to refine their teaching and leadership abilities, reinforcing their readiness for a career in the world of diving.
Day 38
This is the day to celebrate students' remarkable success. While the exact certification date may vary, this day represents the culmination of their Divemaster experience. They've successfully completed the program, equipped with the skills, responsibility, and independence needed to explore the underwater world with confidence and expertise. Their journey from students to Divemaster Interns has not only expanded their knowledge but also instilled a strong sense of professionalism and commitment to the diving community. It's a day of well-deserved recognition for their dedication and accomplishments.
Sail Caribbean
Activities
Kayaking
Ready for a little exploring with a friend? With all the beautiful anchorages and coves we visit there's much to explore by paddle power.
Snorkeling
Meet the creatures below the waves. Swim alongside a friendly sea turtle, join a school of Blue Tang fish, and explore the reefs!
Stand Up Paddleboarding
Get your footing and you'll be amazed at how easy it is to maneuver with perfect balance. You'll have terrific views above, as well as below the waves.
Tubing
Our Number 1 watersports toy is nicknamed "Papa". You'll be hanging on so tight you won't even be able to give a thumbs-up.
Wakeboarding
Once you're up it's a thrill every single second, especially if you get airborne. No wonder this is a Sail Caribbean one-handed favorite!
Waterskiing
Get up, get steady! Then you'll be zipping back and forth across the wake for a ride you'll remember.
Windsurfing
After you've learned to read the wind, you're sure to take full advantage of it on your rig. Time to hook in and hold on!
Social Events
Dance with Moko-Jumbie stilt walkers at our Fireball Party, win the famous Chili Cookoff, and compete for glory at the SC Olympics.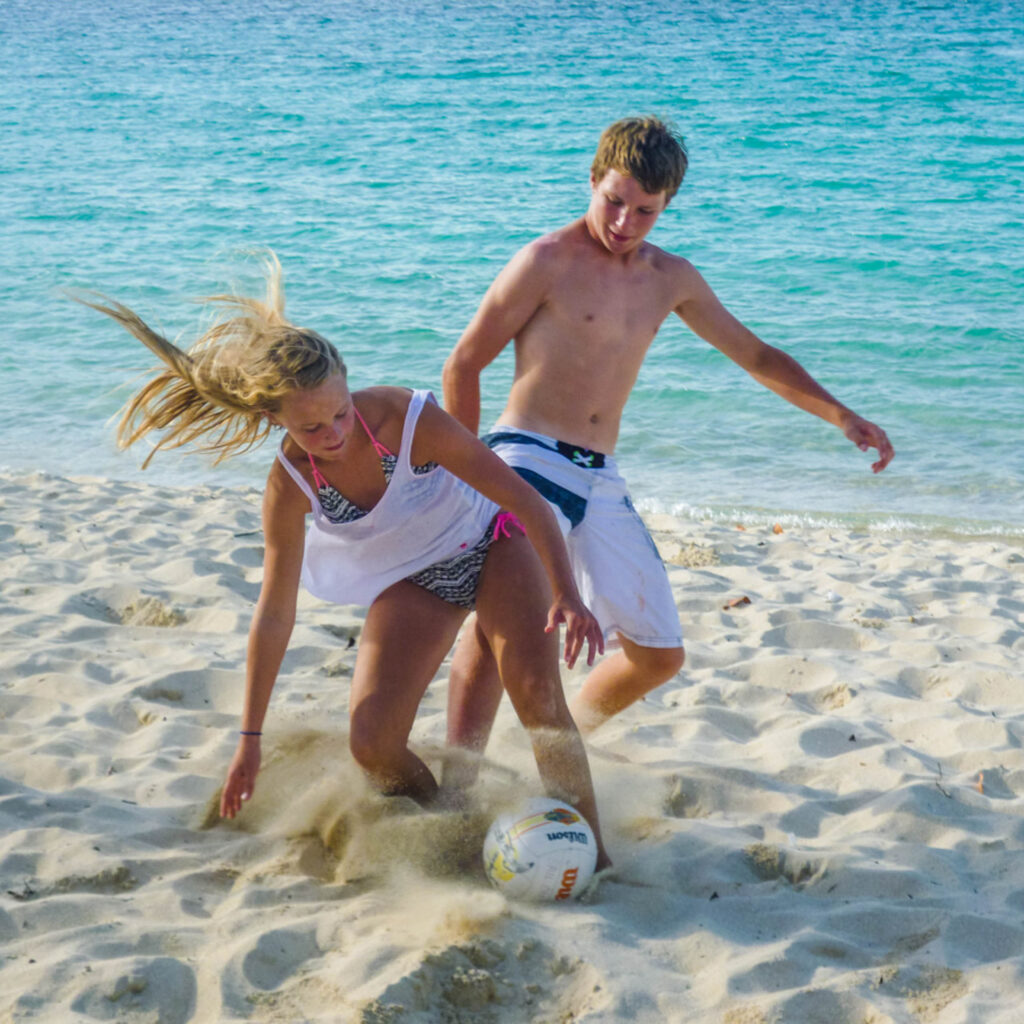 Beach Sports
Team up for a spirited game of volleyball or a fast-paced soccer tournament, then cool off rehearsing a synchronized swim.
Hiking
The islands we visit are mountainous. Reaching the best vantage points provides challenges, but the pay offs are breathtaking vistas!
Community Service
Whether your interest is in cultural heritage, marine biology, or environmental conservation, you'll have opportunities to roll up your sleeves and pitch in!
Marine Biology Seminars
Topics include: respect and awareness of marine organisms, coral biology, geologic formation, sharks, invasive species, sea turtles, and the night ocean.
Island Exploration
Hike through a rainforest, travel mountainous hillside roads, learn about the art of glassblowing, visit an organic farm, and discover different cultures.
Yacht Racing
It's the ultimate team sport! Whether you're on the helm, trimming the jib, or on the rail helping to balance the boat, everyone's efforts count.
Sailing
If you've never set foot aboard a 50′ sloop, it's OK with us – No Experience Necessary! You'll learn by doing and we'll be by your side all the way. If you're already a sailor, build on your knowledge!
Advanced Scuba
Work your way up from Advanced Open Water to Rescue Diver with Specialty certifications along the way. If you're 18, you can even 'Go Pro' and become a PADI Divemaster.
ON EVERY SAIL CARIBBEAN ADVENTURE
Sail Caribbean offers ten different adventure groups with 30 different sessions in the British Virgin and Leeward Islands of the Caribbean. You live aboard a modern 50′ monohull yacht or 45′ catamaran with other teens in your age group and learn to sail. No experience is necessary. Every adventure focuses on an activity, but each offers scuba, marine biology, community service, cultural exchange, watersports, friendships, personal growth and lifelong memories.
Want to compare adventures? Download our 2024 Schedule (PDF)!
Courses
While in training for your Divemaster certification, you will live aboard a monohull yacht with the staff of the concurrently running Charlie Advanced Scuba adventure. You will be able to participate in some of the regular Charlie activities, but to a limited degree.
Prerequisites:
Certified as a PADI Advanced Open Water Diver and PADI Rescue Diver
18 years old
Logged 40 logged dives
Completed EFR Primary and Secondary Care training within 24 months
Medically evaluated and cleared for diving by a physician within 12 months
Exit Requirements:
Emergency First Response Primary and Secondary Care course completion (or qualifying training) within the last 24 months
60 logged dives; documented experience in underwater navigation, night diving and deep diving
Once certified as a PADI Divemaster you are qualified to:
Assist PADI Instructors in conducting PADI programs
Supervise participants in PADI experience programs
Generally supervise both training and non-training related diving activities
Teach and certify Skin Divers
Conduct PADI Scuba Review for certified divers
Apply for PADI's Divemaster Discover Scuba Diving instructor rating
Enroll in PADI Assistant Instructor or the PADI Instructor Development Course (IDC)
Newly certified Divemasters have the opportunity to join the Sail Caribbean Divers team in an internship position and build on their development as a dive professional. While living on the Charlie program's staff boat, you will be directly assisting Sail Caribbean Divers staff with Open Water certifications, Discover Scuba sessions, and co-leading recreational dives.
After the last Charlie program ends in August, Divemasters can join the Open Water Scuba Instructor certification course given at the Hodges Creek facility of Sail Caribbean Divers. Housing will be land-based. See sailcaribbeandivers.com or contact info@sailcaribbeandivers.com for OWSI course dates.
Prerequisite: Must be Open Water certified or equivalent
Non-certification recreational diving is available as an option on all of our adventures. Ever imagine diving on a coral garden, drifting through a rainbow canyon, or exploring a sunken wreck? You will enjoy recreational diving in the BVI with our own Sail Caribbean Divers Instructors and Divemasters. On Delta in the Leeward Islands, professional dive instructors from each island along with our dive staff take you to gorgeous dive sites. You'll gain expert knowledge from each local instructor and get the most out of every dive site you visit. You must provide proof of certification from a recognized agency like PADI, NAUI, YMCA, or NASDS.
You may be able to earn multiple dive specialty certifications. The particular specialties offered will depend on the adventure chosen and our diving schedule. You will decide which specialties you'd like to do when you are in the Caribbean.
All below are available on Charlie Advanced Scuba adventures. Availability on other adventures is shown.
Peak Performance Buoyancy
Prerequisite: PADI Open Water or equivalent
Also available on Sierra
Practice techniques for improving buoyancy and decreasing air consumption resulting in better under water control and more enjoyment/preservation of the diving environment. (2 dives)
Project AWARE Dive Against Debris
Prerequisite: PADI Open Water or equivalent
Also available on Foxtrot and Sierra
The impact on marine life of garbage dumped in our oceans is one of the biggest issues of our time. You can help by going on a dive with mash bags to collect the debris that
Project AWARE Reef Fish Identification
Prerequisite: PADI Open Water or equivalent
Also available on Sierra
Study a variety of fish while observing and identifying markings, shapes, and behavior. (2 dives)
Underwater Naturalist
Prerequisite: PADI Open Water or equivalent
Also available on Sierra and Ocean
Explore and identify marine life including vertebrates, invertebrates, and plant life. (2 dives)
Project AWARE Specialist
Prerequisite: None
Familiarize yourself with the plight of worldwide aquatic ecosystems and learn how to protect aquatic resources. (Non-diving specialty)
Project AWARE Coral Reef Conservation
Prerequisite: None
Also available on Foxtrot
Study the fragile Coral Reef system, and how to preserve it, while observing and identifying markings, shapes, and growth. (Non-diving specialty)
Digital Underwater Photographer
Prerequisite: PADI Open Water or equivalent
Learn the PADI SEA (shoot, examine, adjust) method, principals for getting good photos underwater, plus how to edit and share your shots. (2 dives)
Boat Diver
Prerequisite: PADI Open Water or equivalent
Develop skills needed to dive safely from a power or sailboat as well as special procedures for diving in areas with boat traffic. (2 dives)
Underwater Navigator
Prerequisite: PADI Open Water or equivalent
Hone your underwater navigation skills using a compass, natural navigation techniques, and other navigational tools. (3 dives)
Night Diver
Prerequisite: PADI Open Water or equivalent
Explore the intrigue of diving at night while focusing on equipment handling, navigation, nocturnal marine creatures, and day to night contrast. (3 dives)
Search and Recovery Diver
Prerequisite: PADI Advanced or equivalent
Practice search patterns, effective search techniques in various conditions, and raising heavy objects using lifting devices. (4 dives)
Multi-level Diver
Prerequisite: PADI Advanced or equivalent
Apply valuable techniques for extending bottom times using the recreational dive planner (wheel format) and diving computers. (2 dives)
Drift Diver
Prerequisite: PADI Open Water or equivalent
Learn pertinent safety techniques, how to fine tune your buoyancy and use specialized equipment, as you use the ocean currents and tides as your propulsion. (2 dives)
RMS Rhone Diver
Prerequisite: PADI Advanced or equivalent; 15+ yrs old
The RMS Rhone Diver Specialty, a PADI Distinctive Specialty, is exclusively available at Sail Caribbean. Made famous in the movie, The Deep, this 310-ft cargo ship sank in 1867. She is our most requested dive site and is regularly voted the top wreck dive in the Caribbean.
Enriched Air Diver- Nitrox
Prerequisite: PADI Open Water or equivalent; 15+ yrs old
Learn recreational skills and techniques for diving with different mixes of Oxygen and Nitrogen, for increased bottom time. (2 dives)
Wreck Diver
Prerequisite: PADI Adventure or equivalent; 15+ yrs old
Learn recreational skills and techniques for diving in man-made environments and practice using specialized wreck equipment. (4 dives)
Deep Diver
Prerequisite: PADI Adventure or equivalent; 15+ yrs old
Discover deep dive planning, hazards, special equipment, and extra safety precautions. (4 dives)
Dates & Costs
| Session | Start Date | End Date | Cost* | Days |
| --- | --- | --- | --- | --- |
| Charlie Pro 1 Divemaster & Internship | 06/23/2024 | 07/27/2024 | $9895 | 35 |
| Charlie Pro 2 Divemaster & Internship | 07/15/2024 | 08/18/2024 | $9895 | 35 |
*The tuition above does not reflect optional insurance, optional courses, and transportation fees.