There's no denying that winter is HERE. With the season almost in full swing, you may find yourself a little down in the dumps. Even though the temperature has dropped too low for most to throw on their bathing suits and head out onto the water to enjoy the active lifestyle, it only makes sense that we'd all be reminiscing of warmer days. If you're like me and the thought of missing out on summer watersports for a few months is just too much for you to bear, then you're in luck! I have a few tips that will have you participating in your favorite watersports even in the dead of winter.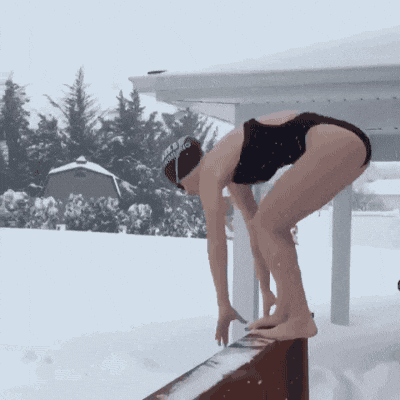 Winter Sailing
How many times have you sat at home wishing it wasn't winter so that you could continue to spend time out on the water? If you're just steps from a body of water as our New York office is, it may be a little disheartening to go down to the pier and see a once full and active area completely void of boats, people and life! If this thought upsets you, you're not alone. Many sailors make the decision to postpone the annual haul-out and extend their boat's sailing season. In the right conditions and with the right attire, of course, winter sailing can be just as enjoyable. Suit up and contact your local marina for more details on available rentals if you're lacking your own yacht.
Snow Surfing
If you consider yourself to be an adventurous individual, then snow surfing, otherwise known as Snowfer, may be something you decide to try this winter. Snowfer is a close cousin to windsurfing, but there's a big difference. Instead of tearing it up across waves, Snowfer allows you to take your talents to frozen lakes and snow covered trails.
Snow Kayaking
Have you ever kayaked? Snowboarded? Have you ever thought of combining the two? Believe it or not, some ingenious people have! While most people put up their kayaks for the winter and, perhaps, switch to a snowboard, some racers in Estonia try their boats out on the powder. Sitting comfortably in a waxed-up kayak equipped with the proper safety gear and a paddle, snow kayakers regularly 'paddle' down the steepest slopes in the world just as if they were traveling down rushing rapids.
Snow Tubing
If 'athletic daredevil' isn't the most accurate description of yourself, tubing may be your preferred winter venture this season. After a nice snowfall, grab your friends and head to your nearest ski resort or park to enjoy a day of fun zooming down a hill in a large inflatable disc.
Let it snow
Yes, winter is here in all her glory; but, if you're not able to get away to warm, exotic destinations, there's no need to despair. The weather outside may be frightful, but it can be delightful —with the right attitude and pack of mates. Adventure awaits right outside your door — so, let it snow, let it snow, let it snow!!
https://giphy.com/gifs/channing-tatum-lip-sync-battle-elsa-10tQSAIjRtvOtW
The greatest challenge during the program was staying entertained during the quarantine period. Not being able to leave your boat and not having a phone, which was a crutch against boredom, it was difficult at first to stay entertained.
Isabela H., Age 16, Ashburn, VA